Offset Your Carbon Footprint
June 2018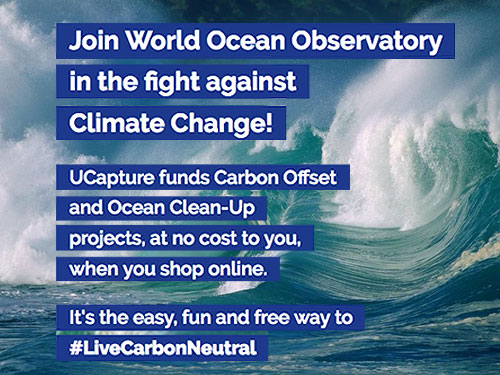 W2O has embarked on a new partnership with UCapture, a new green-tech platform, and South Pole, a carbon offset company, to reduce consumers' environmental impact when they shop.
We're asking you to take part. Signing up is easy, it doesn't cost you a thing, and it's making a difference — by reducing your carbon footprint through our featured carbon offset project, and by helping to fund our W2O sustainability initiatives.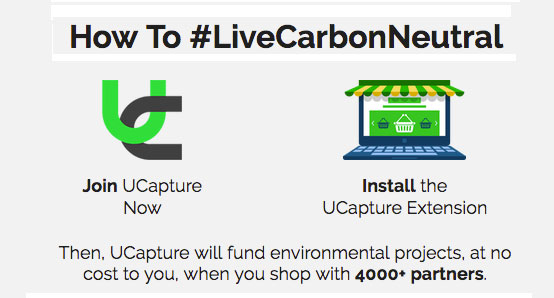 HOW IT WORKS
UCapture funds verified carbon offsets projects such as our featured project, a reforestation and watershed protection initiative in the Andes, at no cost to you when you shop with more than 4,000 online affiliates. UCapture's partner websites donate a portion of your spending to support carbon offset initiatives, at no extra cost to consumers. UCapture dedicates a portion of the funds it receives to World Ocean Observatory, for our help in growing their green-tech platform.
This simple initiative will instantly make your consumer activity more environmentally friendly while helping to support the long-term objectives of our ocean clean-up sustainability initiatives.
WHY JOIN UCAPTURE?
• Become a more sustainable consumer
• Reduce the environmental impact of your purchases
• Support W2O ocean clean-up sustainability programs
• Support Watershed Protection in the Andes
(read more about our featured carbon offset project)
If you're already shopping online, for clothing, travel, electronics or anything else, why not offset some carbon too? It's fun, it's easy, and it's free!
HOW DO I GET STARTED?
• Create a free account here: www.ucapture.com/W2O
• Install the UCapture Extension on your Chrome browser
• Shop with any of 4,000+ partners (the Extension will activate automatically: it's super simple)
This is an exciting new project for the W2O and we appreciate your participation. Please provide us with some feedback and let us know how it's working.
LEARN MORE
• World Ocean Radio: Carbon Offsets for a Sustainable Future
• Read about carbon offsets on the World Ocean Forum blog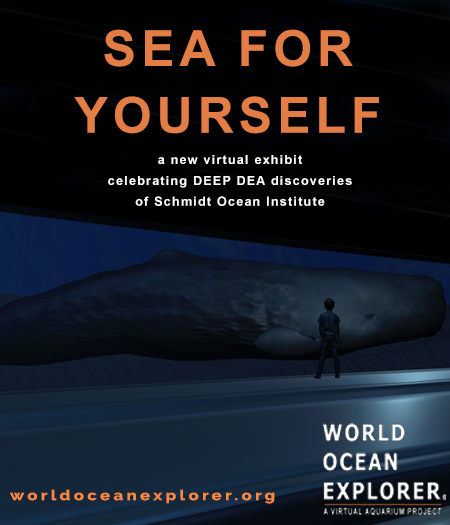 Explore deep-sea animals and environments as you've never seen before. In partnership with the Schmidt Ocean Institute (SOI) the World Ocean Observatory (W2O) has launched a groundbreaking immersive 3D virtual aquarium exhibit! Try World Ocean Explorer FREE today at worldoceanexplorer.org/deep-sea-aquarium.html
SUPPORT W2O WHEN YOU SHOP ONLINE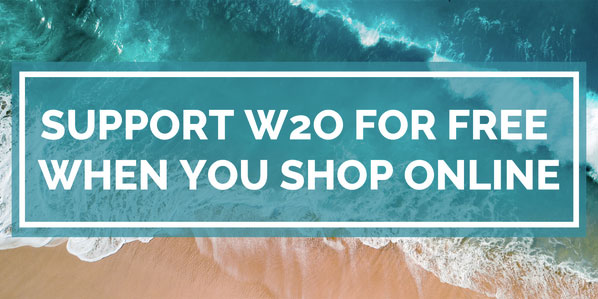 GreenH2O Rewards is a free browser extension that gets 30,000+ stores to contribute part of your purchase price to water-related charities. When you join through the W2O referral link you'll automatically be supporting our programs--at no extra cost--when you shop online. GreenH2O Rewards extension will also save you money by automatically applying the best discount codes at checkout. Saving money and helping the ocean. What could be better?
* GreenH2O Rewards will never collect your personal information nor sell your data
OUTLAW OCEAN MUSIC PROJECT:
WHERE MUSIC MEETS JOURNALISM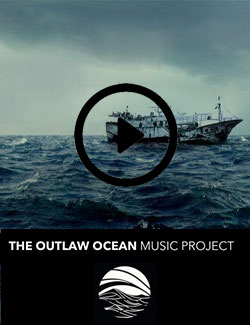 All music in this project is based on THE OUTLAW OCEAN, a New York Times best-selling book by Ian Urbina that chronicles lawlessness at sea around the world. The reporting touches on a diversity of abuses ranging from illegal and overfishing, arms trafficking at sea, human slavery, gun-running, intentional dumping, murder of stowaways, thievery of ships, and other topics. The music is an act of solidarity across geography and language, and an attempt at storytelling from written word to music. It is a captivating collection of inspired songs. Take your pick: listen to ambient tracks, classical, electronic or hiphop.