NAUSICAA
Street Address:
Boulevard Sainte Beuve, B.P. 189
School Programs:
To complete a visit at NAUSICA?, the Education Service can provide an activity leader to help you understand better a topic studied in the exhibition., http://www.nausicaa.fr/Anglais/enseignants.html
Exhibits:
NAUSICA?, the French National Sea Experience Centre in Boulogne-sur-Mer, invites you to join Jean-Michel Cousteau and three children aboard their vessel for an ocean voyage from Iceland to the Cape of Good Hope, http://www.nausicaa.fr/Anglais/Exposition_CAS.htm
To incite the general public to discover and to love the Sea, while raising its awareness on the need for a sustainable management of marine resources

DISTANCE LEARNING RESOURCES
To support all educators and parents teaching from home in the weeks ahead, the World Ocean Observatory is pulling together a compendium of home-study tools and resources for teaching and learning about the ocean. These resources can be used by parents, schools, educators and others to address the educational gaps being created by local and national 'shelter in place' initiatives to help flatten the curve on the Covid-19 outbreak. This list of resources is a work in progress: please reach out if you have other key elements that we should be sharing with our global community.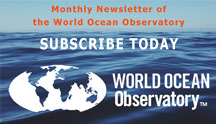 WORLD OCEAN EXPLORER 2020
With a game capable of reaching a global audience, WORLD OCEAN EXPLORER can expand interest in ocean issues and habitats, and excite students about the infinite possibilities associated with ocean exploration. LEARN MORE.