Oregon Ocean Policy Advisory Council
Street Address:
635 Capitol Street NE, Suite 150
Publications:
Oregon Ocean Plan Territorial Sea Management Plan Oregon Statewide Planning Goal 19, Ocean Resources
The Oregon Ocean Policy Advisory Council (OPAC) is a 24-member legislatively-created body established to advise the Governor, the Oregon State Land Board, state agencies, and local governments on matters relating to the use and conservation of ocean resources of the state and offshore waters. OPAC has 14 voting members representing the public, ocean users, conservation interests, tribes, and local governments; ex officio, non-voting members include the directors of nine state agencies with ocean management responsibilities and the Governor?s natural resources assistant. OPAC receives scientific advice for its recommendations from a seven-member Scientific and Technical Advisory Committee. Major areas of concern include marine protected areas, alternative ocean energy, oil and gas development, marine aquaculture, and coastal community development.

DISTANCE LEARNING RESOURCES
To support all educators and parents teaching from home in the weeks ahead, the World Ocean Observatory is pulling together a compendium of home-study tools and resources for teaching and learning about the ocean. These resources can be used by parents, schools, educators and others to address the educational gaps being created by local and national 'shelter in place' initiatives to help flatten the curve on the Covid-19 outbreak. This list of resources is a work in progress: please reach out if you have other key elements that we should be sharing with our global community.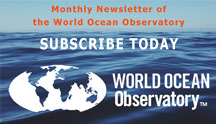 WORLD OCEAN EXPLORER 2020
With a game capable of reaching a global audience, WORLD OCEAN EXPLORER can expand interest in ocean issues and habitats, and excite students about the infinite possibilities associated with ocean exploration. LEARN MORE.