A weekly series of five-minute audio essays on a wide range of ocean issues from science and education to advocacy and exemplary projects, brought to you by long-time host Peter Neill. Available for RSS feed, podcast, and syndicated use at no cost by community radio stations worldwide.
| | | | |
| --- | --- | --- | --- |
| In 1996, the high level intergovernmental Arctic Council was formed to promote cooperation and interaction among the Arctic states. In this episode of World Ocean Radio, host Peter Neill will outline the Council's areas of interest and will argue that The Arctic Council could, over time, serve as a progressive model by which to develop policies and management, sustainable development, and protections for other ecosystems and their inhabitants. | In November of this year Peter Neill, World Ocean Observatory director and host of World Ocean Radio, will attend the IOC Ocean Research Summit in Barcelona, Spain during which he will moderate a session entitled, "Biodiversity, conservation, and the interface with human need and greed." In this episode of World Ocean Radio, he will describe the overall focus of the conference and will devote time to the word "greed" as it pertains to issues of ocean and climate. And he will address an often-... | The water cycle is a complex system of evaporation, weather, wind, deluge, and run off, with the ocean at center and as source of supply. In this episode of World Ocean Radio, host Peter Neill will discuss the various cycles and circles on the planet that orchestrate every aspect of our lives here on Earth. And he will compare the cycles and circles of history and human kind, the rise and fall of civilizations, and the ways in which circumstances force turns and change—sometimes gradually... | In this episode of World Ocean Radio, host Peter Neill uses lyrics composed by a 20th century musical legend to reflect upon the challenges we face in response to a planet succumbing to exhausted land, poisoned air, and polluted sea. |
| Mailboxes fill each day with messages from advocacy organizations with petitions promoting a variety of important causes and ideas. Certain campaigns are hugely successful thanks to the power of social media and the speed with which information travels around the globe. In this episode of World Ocean Radio, host Peter Neill will discuss the evolution of the petition concept and outline some of the most successful international campaigns that have and are making a global difference for climate... | Fresh water shortages are making headlines everywhere. Issues large and small are adding up to a global water crisis which threatens all of us, rich and poor, no matter where we live in the world. In this episode of World Ocean Radio, host Peter Neill will argue that the time has come for us to rethink how we manage the efficiency of our water use at all levels of society—not only by individual conservation practices but by corporate accountability, government action, and regulation. | This week marks two major milestones for World Ocean Radio. First, this episode is the 300th audio broadcast since World Ocean Radio first aired in 2009. And second, this week is the launch of an expansion of World Ocean Radio into four additional languages: French, Spanish, Portuguese, and Swahili. In this episode host Peter Neill will provide six approaches that our listeners might attempt in order to help us reach a larger global audience. | In this fourth and final episode of a multi-part series on the final report released by the Global Ocean Commission, From Decline to Recovery, A Rescue Package for the Global Ocean, World Ocean Radio host Peter Neill addresses the report's concluding recommendations: Proposal 7, Global Ocean Accountability Board: Monitoring Progress toward a Healthy Ocean; and Proposal 8, Creating a High Seas Regeneration Zone. |
| | | | |
| | Arctic opportunities and territorial claims are on the rise as temperatures change and the ice melts. Once impassable, the Arctic is now increasingly accessible to drilling, shipping traffic, and other global enterprise. In this episode of World Ocean Radio, host Peter Neill describes what a transformed Arctic might look like, and suggests that we should be encouraging, subsidizing, and investing in alternative technologies so that we may leave the pristine North alone. | What do we see in a single drop of ocean water? An image captured by David Liittschwager for National Geographic, then magnified 25 times, reveals an impressive abundance of many types of microscopic organisms. In this episode of World Ocean Radio, host Peter Neill will describe some of the creatures discovered therein, and will discuss the larger systems at work in the vast cosmos of a single drop of water. | |
WORLD OCEAN EXPLORER 2021
With a game capable of reaching a global audience, WORLD OCEAN EXPLORER can expand interest in ocean issues and habitats, and excite students about the infinite possibilities associated with ocean exploration. LEARN MORE.
OUTLAW OCEAN MUSIC PROJECT:
A CROSSOVER BETWEEN MUSIC & JOURNALISM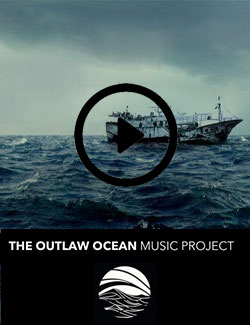 Take your pick: listen to ambient tracks, classical, electronic or hiphop. All music in this project is based on THE OUTLAW OCEAN, a New York Times best-selling book by Ian Urbina that chronicles lawlessness at sea around the world. The reporting touches on a diversity of abuses ranging from illegal and overfishing, arms trafficking at sea, human slavery, gun-running, intentional dumping, murder of stowaways, thievery of ships, and other topics. The music is an act of solidarity across geography and language, and an attempt at storytelling from written word to music. It is a captivating collection of inspired songs ranging from classical to hip hop.