American Sail Training Association
Street Address:
240 Thames Street, P.O. Box 1459
Publications:
We publish the directory of sail training vessels?Sail Tall Ships!?that has been the only comprehensive register of vessels and related educational programs for more than 25 years. , http://www.sailtraining.org
School Programs:
We award scholarships that give young people the chance to experience life at sea aboard tall ships and that help vessels develop effective sail training programs., http://www.sailtraining.org
Exhibits:
We organize the TALL SHIPS CHALLENGE which is an annual series of tall ships races and maritime fesitvals across North America. , http://www.sailtraining.org
Web Programs:
Online professional development and employment opportunities in the sail training industry, educational resources., http://www.sailtraining.org
The American Sail Training Association (ASTA) is a Rhode Island-based, non-profit organization dedicated to enriching youth education through character building and leadership development experiences aboard tall ships. Founded in 1973, ASTA represents more than 250 American and international sailing vessels and is the largest sail training association in the world. Our national mission is to encourage character building through sail training, to promote sail training to the North American public, and to support education opportunities under sail. The organization?s activities directly support experiential education and personal development programs that profoundly shape young people?s lives and help build tomorrow?s leaders
AN APP FOR THE OCEAN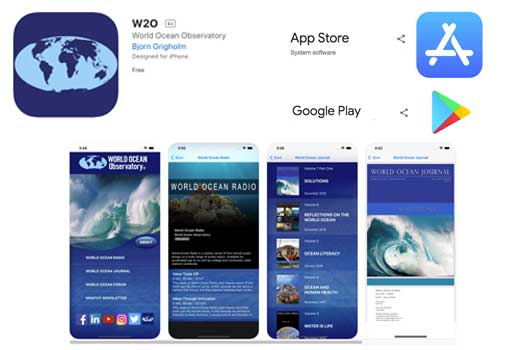 We have a NEW APP to showcase W2O programs and offerings. Download the app for free today on the App Store by searching for "W2O". With the app installed you'll have access to our weekly World Ocean Radio broadcasts, each issue of the World Ocean Journal, updates to the World Ocean Forum blog, access to these monthly newsletters, and more—all in one easy-to-use app! We hope you'll download today, RATE AND REVIEW on the App Store, and let us know how it works!
OUTLAW OCEAN MUSIC PROJECT:
A CROSSOVER BETWEEN MUSIC & JOURNALISM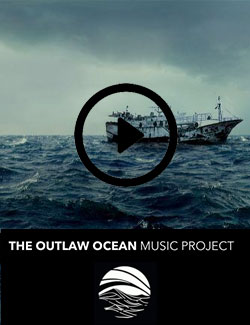 All music in this project is based on THE OUTLAW OCEAN, a New York Times best-selling book by Ian Urbina that chronicles lawlessness at sea around the world. The reporting touches on a diversity of abuses ranging from illegal and overfishing, arms trafficking at sea, human slavery, gun-running, intentional dumping, murder of stowaways, thievery of ships, and other topics. The music is an act of solidarity across geography and language, and an attempt at storytelling from written word to music. It is a captivating collection of inspired songs. Take your pick: listen to ambient tracks, classical, electronic or hiphop.