2021: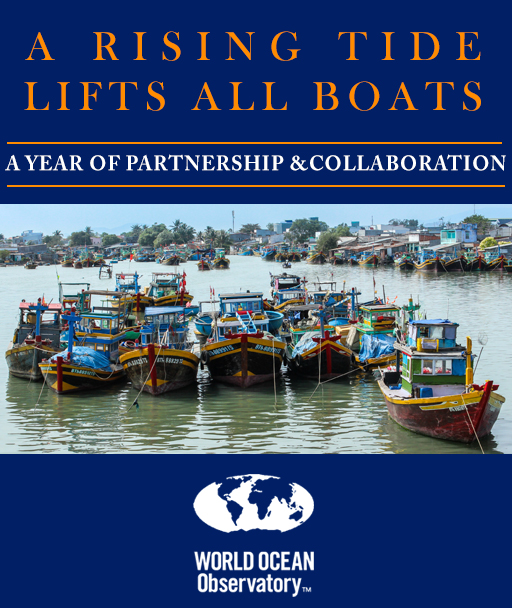 In the past year we have cultivated new partnerships and collaborations with a number of groups engaged in ocean health and discovery. And we've continued to nurture our existing relationships too. By celebrating the successes of other organizations and engaging in relevant and meaningful collaborations, we are continuing to expand and imagine new solutions and advance public understanding of the ocean. A rising tide truly lifts all boats.
ARCTIC FUTURES INSTITUTE
A Center of Excellence in Arctic Studies & Research in Maine
The Arctic Futures Institute (AFI) is a joint initiative of the Center for Oceans & Coastal Law of the University of Maine School of Law, the Climate Change Institute of the University of Maine, and the World Ocean Observatory. The three founding AFI institutions are a unique combination of science, law, policy and outreach based in Maine. The Climate Change Institute has forty years of Arctic science experience, the Center for Oceans & Coastal Law is engaged in advanced Arctic law and policy research, and the World Ocean Observatory reaches a global community of ocean advocates through web-based content and communication.
Learn more: arcticfuturesinstitute.org
HEARTS IN THE ICE
2 Women, 1 Trapper's Hut, 9 Months, 6 Science Projects, 1 Mission
Sunniva Sorby and Hilde Fålun Strøm - the first women in history to overwinter in Svalbard solo - are ready to embark on a second polar night in the High Arctic of Norway in late 2020. Hearts In The Ice aims to bridge science and global citizens by building stories and sharing knowledge to inspire action, so we all play a participatory role in protecting our planet.
Learn more: heartsintheice.com
INTERNATIONAL MARITIME FILM FESTIVAL
An annual juried contest of films celebrating the heritage, spirit of adventure, and ingenuity of boats and waterborne pursuits
Each year the World Ocean Observatory partners with Main Street Bucksport for the International Maritime Film Festival held in late September. IMFF is a celebration of maritime heritage, spirit of adventure, concern for the environment, and ingenuity of boats and waterborne pursuits. Interested filmakers can submit materials via FilmFreeway.
Learn more: maritimefilmfestival.com
KUJATAA WORLD HERITAGE
A 21st century app designed to interpret an ancient
sub-Arctic farming landscape in Southern Greenland
In partnership with the Arctic Futures Institute and the Greenland National Museum & Archives, the W2O is developing a smart phone app to be delivered in June of 2021 for the interpretation of the astonishing historical landscape and artifacts located in Kujataa--Greenland's most recent UNESCO World Heritage Site. Kujataa is a stunning, extraordinary landscape that is perfectly preserved as a ruin that imbues spirituality and a reverence for Nature. These are remote places, accessible only by boat with no cell or wireless service, and places where expensive signage does not endure in the harsh weather conditions. The Kujataa app will help to transcend these limitations and will provide visitors to the ruins with specific information in English, Greenlandic, and Danish.
NEW ENGLAND OCEAN CLUSTER
Encouraging innovative and sustainable approaches to economic opportunity
W2O is partnered with the NEOC as their non-profit-in-residence in their collaborative Ocean Cluster Hüs on the waterfront in Portland, Maine. NEOC exists to connect ocean-minded people with industry knowledge to help ensure opportunity is pursued inclusively, economically, and sustainably.
Learn more: newenglandoceancluster.com
OCEAN HEALTH INDEX
How healthy is the ocean?
From tourism and recreation to clean waters and biodiversity, from carbon storage and natural products to artisinal fishing opportunities and sense of place, the OCEAN HEALTH INDEX measures all that we value about the ocean, providing us with a holistic view of how to manage sustainably for future generations. In the coming months, in collaboration with the Ocean Health Index, the W2O is proud to be highlighting the fourteen goals and sub-goals of the Index and how countries are measuring up using the 2020 Index numbers. Read more about that collaboration here.
SCHMIDT OCEAN INSTITUTE
A virtual aquarium deep sea exhibit
In 2021 the W2O embarked on exciting new collaboration in support of the WORLD OCEAN EXPLORER virtual aquarium. Funded by the Schmidt Ocean Institute, we have begun development of a virtual Deep Sea exhibit to showcase encounters and discoveries during Schmidt's many deep sea expeditions, most specifically their Australia Campaign in 2020. These expeditions of deep sea environments, seamounts, sub-marine canyons and coral ecosystems brought to light a cache of new species and information that will be made available in Explorer's Deep Sea exhibit.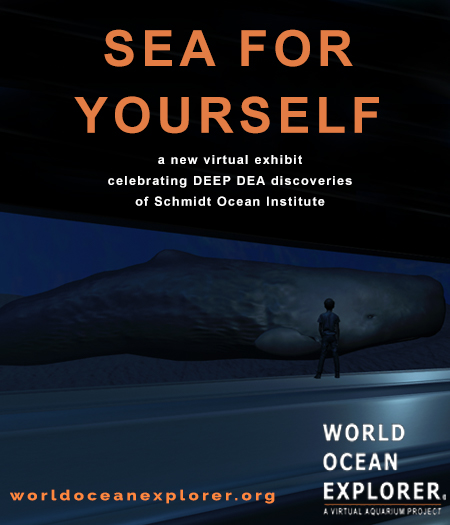 Explore deep-sea animals and environments as you've never seen before. In partnership with the Schmidt Ocean Institute (SOI) the World Ocean Observatory (W2O) has launched a groundbreaking immersive 3D virtual aquarium exhibit! Try World Ocean Explorer FREE today at worldoceanexplorer.org/deep-sea-aquarium.html
SUPPORT W2O WHEN YOU SHOP ONLINE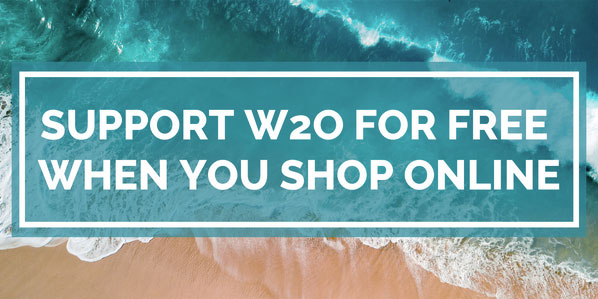 GreenH2O Rewards is a free browser extension that gets 30,000+ stores to contribute part of your purchase price to water-related charities. When you join through the W2O referral link you'll automatically be supporting our programs--at no extra cost--when you shop online. GreenH2O Rewards extension will also save you money by automatically applying the best discount codes at checkout. Saving money and helping the ocean. What could be better?
* GreenH2O Rewards will never collect your personal information nor sell your data
OUTLAW OCEAN MUSIC PROJECT:
WHERE MUSIC MEETS JOURNALISM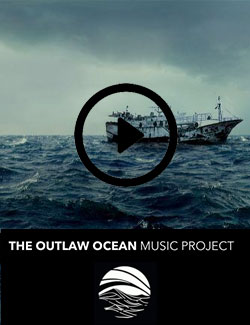 All music in this project is based on THE OUTLAW OCEAN, a New York Times best-selling book by Ian Urbina that chronicles lawlessness at sea around the world. The reporting touches on a diversity of abuses ranging from illegal and overfishing, arms trafficking at sea, human slavery, gun-running, intentional dumping, murder of stowaways, thievery of ships, and other topics. The music is an act of solidarity across geography and language, and an attempt at storytelling from written word to music. It is a captivating collection of inspired songs. Take your pick: listen to ambient tracks, classical, electronic or hiphop.