 © World Ocean Explorer, 2022
World Ocean Observatory
P.O. Box 1
Sedgwick, Maine 04676
COPYRIGHT for WORLD OCEAN EXPLORER
VIRTUAL AQUARIUM PROJECT
1. Terms, Conditions and Restrictions
a. World Ocean Explorer, a virtual aquarium is a project of the World Ocean Observatory (W2O), a not-for-profit educational organization registered in Maine USA, and may not be reproduced, shortened, lengthened, or otherwise edited in any way without express written consent of the W2O
b. World Ocean Explorer may not be used in connection with, or in any way associated with (i) any for-profit use; (ii) any activity or statement that is unlawful or that W2O deems to be morally or socially unacceptable; (iii) any activity or statement that is derogatory of the W2O, the Schmidt Ocean Institute, other funders and affiliates, or any person employed by or associated with the W2O or its affiliates, any production, character or property; or (iv) any form of promotion, advertising, or publicity or for any other purpose not specified and permitted by the W2O in writing.
2. Intellectual Property
a. World Ocean Observatory represents that it owns or controls all of the copyright interests, designated trade marks, digital constructions, inter-actives, and educational materials contained within World Ocean Explorer with the exception of photographs, videos, drawing, and other specific materials owned by the Schmidt Ocean Institute.
b. All rights reserved. All content, its arrangement, copyrights, trademarks and other proprietary rights herein are owned or controlled exclusively by W2O, and no design element, text, photos, videos, or other intellectual property may be reproduced in whole or in part in any format for any purpose without the express written consent of W2O.
3. Indemnification
Licensee will indemnify, hold harmless, and defend Licensor, its affiliates and their respective officers, directors, employees, consultants and agents from and against any and all liability, damage, cost and expense incurred by any of such parties in connection with any claim or suit brought or made against any of such parties, arising from or related to any (i) breach of Agreement; unauthorized use by Licensee of the Licensed Property; (iii) infringement or misappropriation of any third-part intellectual property right by Licensee; or (iv) non-compliance by the Licensee with any applicable laws or regulations.
4. Contributors
Bjorn Grigholm, Platform & Educational Director
Trisha Badger, Managing Director
Peter Neill, Director
Private and Foundation Funders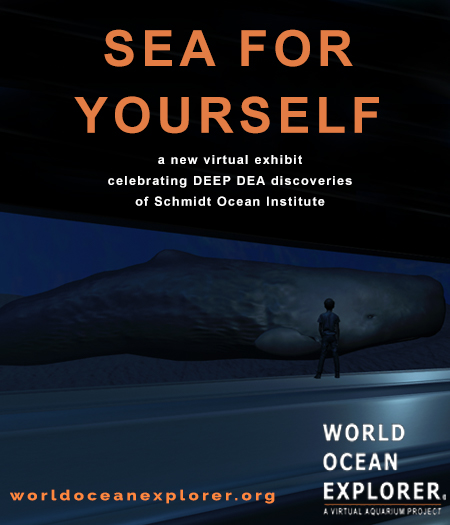 Explore deep-sea animals and environments as you've never seen before. In partnership with the Schmidt Ocean Institute (SOI) the World Ocean Observatory (W2O) has launched a groundbreaking immersive 3D virtual aquarium exhibit! Try World Ocean Explorer FREE today at worldoceanexplorer.org/deep-sea-aquarium.html
SUPPORT W2O WHEN YOU SHOP ONLINE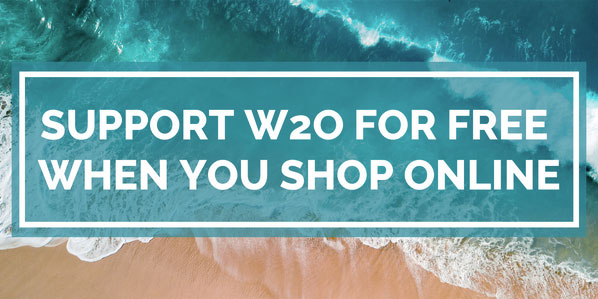 GreenH2O Rewards is a free browser extension that gets 30,000+ stores to contribute part of your purchase price to water-related charities. When you join through the W2O referral link you'll automatically be supporting our programs--at no extra cost--when you shop online. GreenH2O Rewards extension will also save you money by automatically applying the best discount codes at checkout. Saving money and helping the ocean. What could be better?
* GreenH2O Rewards will never collect your personal information nor sell your data
OUTLAW OCEAN MUSIC PROJECT:
WHERE MUSIC MEETS JOURNALISM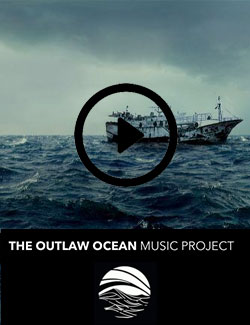 All music in this project is based on THE OUTLAW OCEAN, a New York Times best-selling book by Ian Urbina that chronicles lawlessness at sea around the world. The reporting touches on a diversity of abuses ranging from illegal and overfishing, arms trafficking at sea, human slavery, gun-running, intentional dumping, murder of stowaways, thievery of ships, and other topics. The music is an act of solidarity across geography and language, and an attempt at storytelling from written word to music. It is a captivating collection of inspired songs. Take your pick: listen to ambient tracks, classical, electronic or hiphop.