Broadcast Affiliates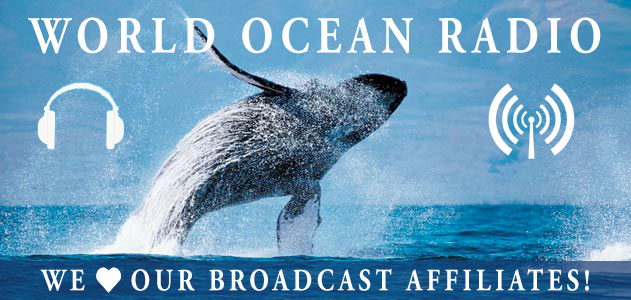 WORLD OCEAN RADIO appreciates its family of broadcast affiliates:
- WERU 89.9 FM, Blue Hill, ME
- California Academy of Sciences/Steinhart Aquarium
- KSER-FM, Everett, WA
- WGDR 91.1 FM, Goddard College Community Radio
- Erie Maritime Museum
- 3CR Melbourne, Australia: Out of the Blue
- Waiheke Radio, 107.4 FM, Waiheke Island, New Zealand
- Mystic Seaport
- Geneva Radio
- OceansInc.org
- WRFA-LP, Chautauqua County: WUOW-LP, Oneonta, NY
- KRFP-LP, Moscow, Idaho
- WRST-FM, University of Wisconsin community radio
- University of Pennsylvania Public Radio
- WP$E FM 107.10, Penn State
- WAZU 90.7 FM Peoria, IL
- KKFI Community Radio 90.1 FM, Kansas City, KS
- South Western Africa's dlist.org
- East Coast Africa's dlist-asclme.org
- KOWA 106.5 FM, Olympia, Washington
- 90.5 WERG-FM, Gannon University
- WZRD 88.3 FM, Northeastern Illinois University in Chicago
- KKFI 90.1 FM, Kansas City Community Radio
- WXAC 91.3 FM, Albright College, Reading, PA
- WTJU 91.1 FM, University of Virginia, Charlottesville
- KAOS 89.3 FM, Evergreen State College Community Radio, Oregon
- KACR-LP, 96.1, Alameda Community Radio, California
- WRWK-LP, 93.9, The Work FM, Midlothian, Virginia
- KVMR 89.5, Nevada City, CA,
- WGRN 89.5, Greenville University Radio, Illinois
- WORT 89.9FM, Madison Community Radio, Wisconsin
- KMXT 100.1 FM, Public Radio, Kodiak, Alaska
- KBCS 91.3 Community Radio, Bellevue, Washington
World Ocean Radio has produced more than 390 radio broadcasts to date, and is heard all over the world through community radio stations, via environmental NGOs, National Science Radio, and on college campuses nationwide. If you are a broadcaster we hope you will consider adding World Ocean Radio to your weekly programming schedule. We know your listening audience will discover a rewarding wealth of knowledge and meaningful information about the state of the world ocean that is relevant for us all.