Humans and the Ocean

Principle #6:
The Ocean and Humans are Inextricably Interconnected
A The ocean affects every human life. It supplies freshwater (most rain comes from the ocean) and nearly all Earth's oxygen. The ocean moderates the
Earth's climate, influences our weather, and affects human health.
B. The ocean provides food, medicines, and mineral and energy resources. It supports jobs and national economies, serves as a highway for transportation of goods and people, and plays a role in national security.
C. The ocean is a source of inspiration, recreation, rejuvenation, and discovery. It is also an important element in the heritage of many cultures.
D. Humans affect the ocean in a variety of ways. Laws, regulations, and resource management affect what is taken out and put into the ocean. Human development and activity leads to pollution (point source, nonpoint source, and noise pollution), changes to ocean chemistry (ocean acidification), and physical modifications (changes to beaches, shores, and rivers). In addition, humans have removed most of the large vertebrates from the ocean.
E. Changes in ocean temperature and pH due to human activities can affect the survival of some organisms and impact biological diversity (coral bleaching due to increased temperature and inhibition of shell formation due to ocean acidification).
F. Much of the world's population lives in coastal areas. Coastal regions are susceptible to natural hazards (tsunamis, hurricanes, cyclones, sea level change, and storm surges).
G. Everyone is responsible for caring for the ocean. The ocean sustains life on Earth and humans must live in ways that sustain the ocean. Individual and collective actions are needed to effectively manage ocean resources for all.

DISTANCE LEARNING RESOURCES
To support all educators and parents teaching from home in the weeks ahead, the World Ocean Observatory is pulling together a compendium of home-study tools and resources for teaching and learning about the ocean. These resources can be used by parents, schools, educators and others to address the educational gaps being created by local and national 'shelter in place' initiatives to help flatten the curve on the Covid-19 outbreak. This list of resources is a work in progress: please reach out if you have other key elements that we should be sharing with our global community.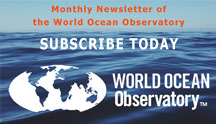 WORLD OCEAN EXPLORER 2020
With a game capable of reaching a global audience, WORLD OCEAN EXPLORER can expand interest in ocean issues and habitats, and excite students about the infinite possibilities associated with ocean exploration. LEARN MORE.