Diversity of Life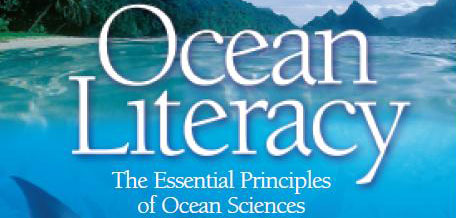 Principle #5:
The Ocean Supports a Great Diversity of Life and Ecosystems
A. Ocean life ranges in size from the smallest living things, microbes, to the largest animal on Earth, blue whales.
B. Most of the organisms and biomass in the ocean are microbes, which are the basis of all ocean food webs. Microbes are the most important primary producers in the ocean. They have extremely fast growth rates and life
cycles, and produce a huge amount of the carbon and oxygen on Earth.
C. Most of the major groups that exist on Earth are found exclusively in the ocean and the diversity of major groups of organisms is much greater in the ocean than on land.
D. Ocean biology provides many unique examples of life cycles, adaptations, and important relationships among organisms (symbiosis, predator-prey dynamics, and energy transfer) that do not occur on land.
E. The ocean provides a vast living space with diverse and unique ecosystems from the surface through the water column and down to, and below, the seafloor. Most of the living space on Earth is in the ocean.
F. Ocean ecosystems are defined by environmental factors and the community of organisms living there. Ocean life is not evenly distributed through time or space due to differences in abiotic factors such as oxygen, salinity, temperature, pH, light, nutrients, pressure, substrate, and circulation. A few regions of the ocean support the most abundant life on Earth, while most of the ocean does not support much life.
G. There are deep ocean ecosystems that are independent of energy from sunlight and photosynthetic organisms. Hydrothermal vents, submarine hot springs, and methane cold seeps, rely only on chemical energy and chemosynthetic organisms to support life.
H. Tides, waves, predation, substrate, and/or other factors cause vertical zonation patterns along the coast; density, pressure, and light levels cause vertical zonation patterns in the open ocean. Zonation patterns influence
organisms' distribution and diversity.
I. Estuaries provide important and productive nursery areas for many marine and aquatic species.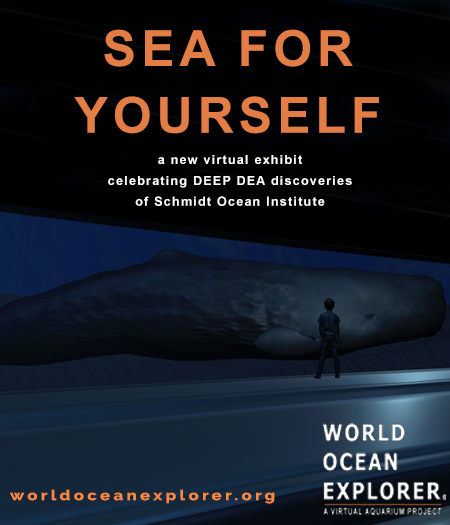 Explore deep-sea animals and environments as you've never seen before. In partnership with the Schmidt Ocean Institute (SOI) the World Ocean Observatory (W2O) has launched a groundbreaking immersive 3D virtual aquarium exhibit! Try World Ocean Explorer FREE today at worldoceanexplorer.org/deep-sea-aquarium.html
SUPPORT W2O WHEN YOU SHOP ONLINE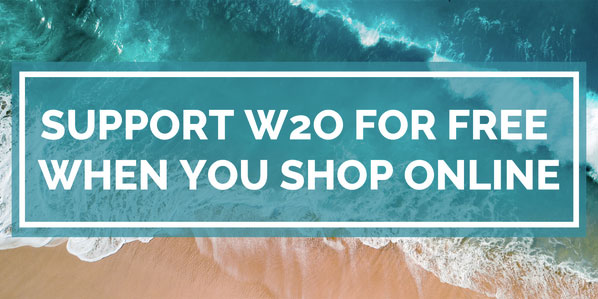 GreenH2O Rewards is a free browser extension that gets 30,000+ stores to contribute part of your purchase price to water-related charities. When you join through the W2O referral link you'll automatically be supporting our programs--at no extra cost--when you shop online. GreenH2O Rewards extension will also save you money by automatically applying the best discount codes at checkout. Saving money and helping the ocean. What could be better?
* GreenH2O Rewards will never collect your personal information nor sell your data
OUTLAW OCEAN MUSIC PROJECT:
WHERE MUSIC MEETS JOURNALISM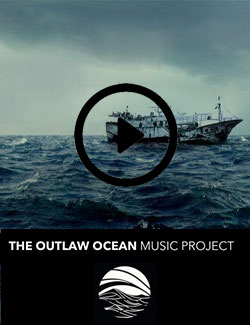 All music in this project is based on THE OUTLAW OCEAN, a New York Times best-selling book by Ian Urbina that chronicles lawlessness at sea around the world. The reporting touches on a diversity of abuses ranging from illegal and overfishing, arms trafficking at sea, human slavery, gun-running, intentional dumping, murder of stowaways, thievery of ships, and other topics. The music is an act of solidarity across geography and language, and an attempt at storytelling from written word to music. It is a captivating collection of inspired songs. Take your pick: listen to ambient tracks, classical, electronic or hiphop.