Welcome to OUR OCEAN SPACE, a web-based network for exchange of projects, art, audio-visual presentations, and other imaginative formats, created and uploaded by young Citizens of the Ocean to share with their counterparts worldwide. Teachers and students are invited to share their ocean-related projects with other classrooms, linking together young people through their understanding and interpretation of ocean systems.
Create and account/log in to submit projects and presentations in PowerPoint format, upload images to photo galleries, and link to video projects on YouTube. Each project will be marked as a DRAFT and will be posted to the site once it is reviewed by the W2O Editor for appropriate content. It is the responsibility of those submitting material to address copyright clearance for photographs, music, and other literary and graphic materials.
Would you like to contribute to our growing community of projects? Once you have an account with World Ocean Observatory, you can then add as many ocean-related projects as you'd like.

DISTANCE LEARNING RESOURCES
To support all educators and parents teaching from home in the weeks ahead, the World Ocean Observatory is pulling together a compendium of home-study tools and resources for teaching and learning about the ocean. These resources can be used by parents, schools, educators and others to address the educational gaps being created by local and national 'shelter in place' initiatives to help flatten the curve on the Covid-19 outbreak. This list of resources is a work in progress: please reach out if you have other key elements that we should be sharing with our global community.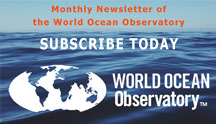 WORLD OCEAN EXPLORER 2020
With a game capable of reaching a global audience, WORLD OCEAN EXPLORER can expand interest in ocean issues and habitats, and excite students about the infinite possibilities associated with ocean exploration. LEARN MORE.