A weekly series of five-minute audio essays on a wide range of ocean issues from science and education to advocacy and exemplary projects, brought to you by long-time host Peter Neill. Available for RSS feed, podcast, and syndicated use at no cost by community radio stations worldwide.
| | | | |
| --- | --- | --- | --- |
| Visiting coastal graveyards in Ireland some years ago, World Ocean Radio host Peter Neill observed the many stones of sailors lost at sea and began to contemplate the coastal ports in the United States, and the ways that cities and ports alongshore honor--or forget--those who dedicated their lives to the seaborne pursuits of fishing, boatbuilding, the merchant trades, and international commerce. | This week on World Ocean Radio we're talking about solutions to the climate challenge by highlighting some modern examples of and possibilities for conversion: industries across America shifting from conventional and failing ways of doing business to an embrace of enterprising and inventive opportunities for a sustainable future. | This week we are talking about ocean calm and the ways that we are affected in mind, body and spirit by a peaceful ocean. In this episode we tell the myth of Alkyone and her transformation from woman to kingfisher, and the breathless calm required to hatch her fledglings at sea. | The World Ocean Observatory is partnering with Main Street Bucksport this year for the 4th annual International Maritime Film Festival, a celebration of maritime heritage, spirit of adventure, concern for the environment, and ingenuity of boats and waterborne pursuits. In this week's episode of World Ocean Radio we discuss the upcoming festival and call for submissions, and reflect on the importance and power of the written word, photographs and film to make us aware of issues and to act toward... |
| This week on World Ocean Radio host Peter Neill gets us thinking about seawater: as a resource for fresh drinking water, as a means for robust renewable energy, and perhaps so much more; and he discusses the potential for inventive ideas using ocean systems that have yet to be imagined or explored. | Bridges are physical structures born from the ingenuity and hard work of humankind, engineered to connect things from one side to another. Bridges are also symbols and metaphors. This week on World Ocean Radio host Peter Neill muses about the bridge between despair and hope, between resistance and reinvention, between past and future. In this episode he encourages us to have the courage and determination to cross over to the other side where a sustainable future awaits. | The Green New Deal has received much attention in the United States recently as one possible response to the challenging circumstances we face worldwide. In this episode of World Ocean Radio we outline a recent paper published by The Ocean Foundation that addresses the question, "How does the Green New Deal integrate with the best desired practices and changes for the ocean?" Their report outlines three ocean areas that must be considered as part of a vision and strategy for developing a more... | Solar energy has emerged worldwide as a serious and viable alternative to fossil fuels, and can now be found in many places around the world. In this episode of World Ocean Radio we argue that solar power must be recognized as the most powerful energy technology available to us today. |
| There has never been a better time to be a citizen scientist--those individuals interested in the collection of data toward solutions, the expansion of public awareness, to satisfy curiosity, and to help develop concrete actions for the protection of the ocean. In this episode of World Ocean Radio we provide a number of examples of ocean science initiatives for the curious at heart, whether your interest is penguins, birds, clouds, phytoplankton or any other feature of the ocean world. | Food webs describe who eats whom in an ecological community. In the aquatic food web, humans feed down the food chain, consuming lesser and lesser ocean predators and marine species without a consciousness of the consequences of our actions at the microscopic level. How do we persuade listeners to adopt a different perspective? How do we articulate an optimistic and realistic way of looking at who we are in relation to all the elements of the natural world? In this episode of World Ocean Radio... | Invention and management of energy systems have led to increased efficiency and less reliance on unsustainable supplies of fossil fuels. In this episode of World Ocean Radio we discuss Statkraft, a Norwegian energy conglomerate that has begun to implement digital market platforms and smarter grid technology to help build more dynamic, efficient and sustainable energy systems worldwide. | World Ocean Radio host Peter Neill recently returned home from a trip to Antarctica aboard MS Island Sky with scientists from Woods Hole and a film crew from BBC-ONE, sharing insights and knowledge with other citizen scientists aboard. In this episode he offers reflections on his experiences in the last wilderness. |
| This week marks the 500th episode of World Ocean Radio! For more than 10 years, World Ocean Radio has been engaging in dialogue about ocean issues, suggesting solutions to today's problems, and championing for the change required to conserve and sustain all natural resources for the benefit of all mankind. Originally broadcast through WERU-FM in Blue Hill, Maine, World Ocean Radio is now heard via college and community radio stations, podcast and Internet radio on five continents around the... | A recent report from the Yale Program on Climate Change, measuring public awareness and political views on issues related to climate, shows that opinions are changing. Survey results show that in the last year alone there has been a significant upward shift by registered voters in terms of understanding and concern of human-caused climate change. In this episode of World Ocean Radio we break down the report and the proposed national policies impacting public opinion. | The word 'indigenous' is used a lot these days, especially in terms of territorial rights to land and of invasive species of flora and fauna. In this episode of World Ocean Radio we discuss the origins of nature, especially in terms of the interaction between humans and the natural world, the rights of nature, and the world's most invasive species and biggest threat to biodiversity: homo sapiens. | Antarctica, terra nullius--nobody's land, has long been a place apart, once explored only by intrepid and resourceful individuals willing to risk failure and death. Peter Neill, host of World Ocean Radio, will be in Antarctica next week aboard MS Island Sky with scientists from Woods Hole and a film crew from BBC-ONE, sharing insights and knowledge with other citizen scientists aboard, all wanting to experience and document the world's last wilderness. This upcoming trip has him thinking about... |

DISTANCE LEARNING RESOURCES
To support all educators and parents teaching from home in the weeks ahead, the World Ocean Observatory is pulling together a compendium of home-study tools and resources for teaching and learning about the ocean. These resources can be used by parents, schools, educators and others to address the educational gaps being created by local and national 'shelter in place' initiatives to help flatten the curve on the Covid-19 outbreak. This list of resources is a work in progress: please reach out if you have other key elements that we should be sharing with our global community.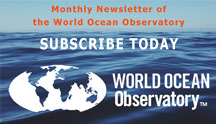 WORLD OCEAN EXPLORER 2020
With a game capable of reaching a global audience, WORLD OCEAN EXPLORER can expand interest in ocean issues and habitats, and excite students about the infinite possibilities associated with ocean exploration. LEARN MORE.