A weekly series of five-minute audio essays on a wide range of ocean issues from science and education to advocacy and exemplary projects, brought to you by long-time host Peter Neill. Available for RSS feed, podcast, and syndicated use at no cost by community radio stations worldwide.
| | | | |
| --- | --- | --- | --- |
| The Japanese word "Mottainai" refers to the essence of things, and suggests that objects do not exist in isolation, rather that they are intrinsically linked to one another. In this episode of World Ocean Radio host Peter Neill will discuss this and other Japanese words and phrases which can be used to help us describe a new strategy for our relationship to the ocean, one which respects and sustains the values of Mother Nature so that we may rely on her natural resources for our future, and for... | Waste and the management of it are new challenges of these recent decades. How do we dispose of toxic waste, plastic packaging, electronics, and other discards of our modern society? Where does it all go? In this episode of World Ocean Radio, host Peter Neill talks about current efforts to recycle and re-purpose trash in efforts to slow contribution to the waste stream, and he suggests some new ideas for turning waste into profit. | As the world population has grown, the demand for food has increased, technologies for more efficient harvest have evolved, and our natural systems have been exploited at ever-increasing scale. In this episode of World Ocean Radio, host Peter Neill will present a recent suggestion by Dr. Daniel Pauly of the Sea Around Us Project which outlines a simple management plan that would solve the problem through an economic adjustment of scale. | Toxic chemicals released into watersheds and waterways remain a persistent problem despite the sounding of alarms, which for decades have railed against the uncontrolled use of fertilizers and pesticides. Today, the issue is as pervasive and as threatening as ever. In this episode of World Ocean Radio host Peter Neill shares research on international protections and management approaches and argues that despite best intentions, precautions against use and dispersal are limited, confused, mired... |
| At a recent conference and planning workshop sponsored by the Climate Change Institute at the University of Maine, participants took part in a climate risk management exercise to define possible climate change scenarios. They were given lists of risks, impacts, and vulnerabilities as tools to imagine viable responses. In this episode of World Ocean Radio, host Peter Neill describes the exercise and explains the scenarios and how they might be transformed and implemented as plans for action. And... | Externality refers to a disconnected or unconsidered consequence. Hydrofracking, mountaintop removal, filled wetlands, carbon emissions, and plastic pollution are all examples of intrusion into natural systems where the full cost is not valued. In this episode of World Ocean Radio host Peter Neill will discuss the real, various, and dangerous externalities of climate change and will assert that to deny them is simplistic and defeatist. | An article published by The Guardian in October provides a stark exposé of one of the largest Chinese suppliers of premium tuna to the Japanese market. The findings were alarming: a company circumventing international conservation limits by simply ignoring them; a government unwilling to crack down on illegal fishing because it does not fit past patterns of behavior; an industry that does nothing to honor catch limits set by Regional Fisheries Management Organizations. The list of revelations... | Who has a right to life? Only one species? Do humans have the right to exterminate any species they wish? In an effort to combat climate change and the exploitation of the planet's resources, Bolivia is becoming the first country on Earth to give comprehensive legal rights to Mother Nature. In 2010 the National Congress of Bolivia voted to support an act to protect the well-being of its citizens by protecting the natural world, its resources, sustainability, and value as essential to the... |
| Everywhere you look there is a battle being waged over our energy future. Leasing plans for offshore oil have long and unsuccessfully been the target of industry groups; it has been asserted, however, that in recent months offshore exploration and development have gained public backing and may push forward. In this episode of World Ocean Radio, host Peter Neill will argue that the energy industry has transformed the American landscape and cannot be trusted with environmental stewardship of the... | In this episode of World Ocean Radio host Peter Neill explains the term "ecological debt" and outlines the work of the Global Footprint Network which uses the Ecological Footprint accounting tool to measure how much nature we have and how much we use. And he'll assert that, according to the matrix, we are already in global ecological overshoot, having depleted the very resources on which human life and biodiversity depend. | The distribution of fresh water to meet growth and increased demand has historically relied on massive planning structures. The impacts of climate change (drought, fire, extreme weather) are testing these structures, exposing them to be largely inadequate for a 21st century world. In this episode of World Ocean Radio, host Peter Neill will use China as an example of a rapidly-developing country in need of an industrial water policy that realistically factors the true cost of the supply and... | Each city lost or gained by a rival faction in the latest violence in Syria and Turkey sits on a major river—the Euphrates, the Tigris, or their tributaries. The wars waged are being fought along a watershed. In this episode of World Ocean Radio we suggest that despite air strikes, conflicting systems of law, and pursuits for oil, what really matters most is water. That it, among all other things, is what enables the true security of the region. |
| In Part II of a 2-part series on the Global Water Contract, World Ocean Radio host Peter Neill explains the Committee's progressive recommendations in response to a growing fresh water crisis that is estimated to affect 3 billion people worldwide. | In 1998, a private commission was assembled to create a framework for worldwide understanding of fresh water as an inalienable human right. In this first of a two-part series on the Global Water Contract, World Ocean Radio host Peter Neill will begin to outline the basic premises and arguments laid out in the contract, a foundation on which to share the committee's recommendations, which will appear in next week's episode. | On September 21st, 2014, nearly 400,000 people gathered to march through the streets of New York City to express growing concern over the impacts of climate change. World Ocean Observatory's Peter Neill was there, and in this episode of World Ocean Radio he shares the exhilaration and exuberance of the march and discusses the UN Climate Summit and General Assembly which took place in the days following the People's Climate March. | Clean air is as valuable as clean water: both are essential requirements for human health and survival. Statistics and data on emissions from burning fossil fuels is not new news, and solutions thus far have not been very successful. In this episode of World Ocean Radio, host Peter Neill will suggest that air is in danger of becoming a commodified natural resource, an asset to be traded and controlled. He will argue that air, like water, must be free and available for everyone in the name of... |
WORLD OCEAN EXPLORER 2021
With a game capable of reaching a global audience, WORLD OCEAN EXPLORER can expand interest in ocean issues and habitats, and excite students about the infinite possibilities associated with ocean exploration. LEARN MORE.
OUTLAW OCEAN MUSIC PROJECT:
A CROSSOVER BETWEEN MUSIC & JOURNALISM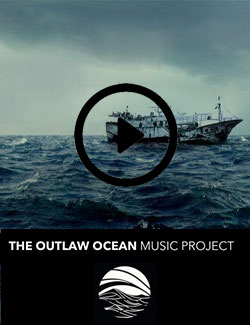 Take your pick: listen to ambient tracks, classical, electronic or hiphop. All music in this project is based on THE OUTLAW OCEAN, a New York Times best-selling book by Ian Urbina that chronicles lawlessness at sea around the world. The reporting touches on a diversity of abuses ranging from illegal and overfishing, arms trafficking at sea, human slavery, gun-running, intentional dumping, murder of stowaways, thievery of ships, and other topics. The music is an act of solidarity across geography and language, and an attempt at storytelling from written word to music. It is a captivating collection of inspired songs ranging from classical to hip hop.