A weekly series of five-minute audio essays on a wide range of ocean issues from science and education to advocacy and exemplary projects, brought to you by long-time host Peter Neill. Available for RSS feed, podcast, and syndicated use at no cost by community radio stations worldwide.
| | | | |
| --- | --- | --- | --- |
| The conversation continues this week about the future of the Arctic. In this episode of World Ocean Radio host Peter Neill will argue that now is the time to look to the Antarctic region and their long-standing treaty which has there served as an achievement of sustainability and governance. And he will ask, "Why could the Antarctic agreement not apply just as effectively to the Arctic region?" | The conversation continues about the future of the Arctic this week with further outcomes from the Arctic Circle Assembly in Reykjavik, Iceland. During the Assembly there were conversations around the inevitable development of the Arctic couched within the framework of the 'precautionary principle" which implies that there is a social responsibility to protect the public from exposure to harm. In this episode host Peter Neill will argue that given the risks and challenges to developing the... | In a continuing conversation about the future of the Arctic, host Peter Neill shares his concerns about the disconnect between a strong commitment to Arctic conservation and sustainability and the Arctic as a place for inevitable economic development. And he asks, why would we put the Arctic at risk? Why should we drill there? Why should we disrupt the sea floor and natural systems? And finally, what is the true value of the Arctic? | The Arctic Circle, an assembly founded by the President of Iceland and held annually to help define the deliberations of the Arctic Council, was held in October in Reykjavík, Iceland. World Ocean Radio host Peter Neill was there, and he is back this week to discuss the conference and the interests and aspirations of the many countries that had representatives attending in order to assert their claim on what appears to be an inevitable future of exploitation of Arctic resources. |
| Fresh water shortages are making headlines everywhere. Issues large and small are adding up to a global water crisis which threatens all of us, rich and poor, no matter where we live in the world. In this episode of World Ocean Radio, host Peter Neill will argue that the time has come for us to rethink how we manage the efficiency of our water use at all levels of society—not only by individual conservation practices but by corporate accountability, government action, and regulation. | As a lead up to the Climate Summit in Paris scheduled for December (COP21), World Ocean Radio will highlight some encouraging signs of climate progress. In this week's episode, host Peter Neill will focus on the growing movement by corporations, institutions, and individuals to divest their financial holdings from fossil fuels. And he'll introduce the work of The Climate Group, a coalition of environmental and financial groups devoted to creating a "clean revolution" by working to develop... | The Pope's recent visit to the United States sparked much conversation and debate about the environment. Pope Francis has been very clear in his views on climate change as a real factor in today's world, and has expressed that we must understand and respond to these problems for our future survival. In this episode of World Ocean Radio host Peter Neill will quote from the Pope's encyclical in which he provides a series of warnings about the health of the ocean and a sustainable future. | In late September Royal Dutch Shell announced it has terminated oil exploration and drilling efforts in the Arctic, citing disappointing exploratory results, high costs and strict regulations as their reasons to quit. In this episode of World Ocean Radio, host Peter Neill will assert that this is a great step forward for the protection of the Arctic and will express hope that Shell will go on to invest in other projects such as solar and wind that they might help to shift the paradigm for the... |
| Oysters have had a history of ebb and flow, plenty and scarcity, and in New York Harbor there was a time when the waters were so polluted that oyster populations diminished and interest in consumption vanished. Enter the Harbor School, an innovative high school on Governor's Island on the East River in New York City. They have launched a project to revive the defunct oyster populations through an ambitious goal of restoring no less than one billion oysters to the harbor. In this episode of... | The climate is changing: changing moisture, increased temperature, accelerated growth and distribution of pollen, increased allergic reactions. Scientists agree that climate impacts are the defining issue of our time. Thankfully, many are working to build a framework for climate future planning. In this episode of World Ocean Radio, host Peter Neill hails the work of Dr. Paul Mayewski and his team at the Climate Change Institute who are creating a powerful software matrix that will relate... | World Ocean Radio host Peter Neill recently witnessed a beautiful full moon rise from an island perch in Maine. The silent, stealthy way that it rose in the sky got him ruminating about water, tide, sun, current, power, light, nature, human emotion, and the often under-appreciated, surreal force of the moon. | "We live in a sea of radioactivity. The danger is in the dose." ~ Ken Buesseler, Marine Chemist, Woods Hole Oceanographic Institution The West Coast of the United States seems under siege—both on land and offshore. Many inter-related consequences can be used to explain the terrestrial problems plaguing the Pacific states, but what of the issues facing the ocean? The effect of leaking radiation has long raised concerns as a cause for many inexplicable natural events. Since 2004 Ken Buesseler and... |
| A recent series of investigative stories entitled "The Outlaw Ocean" by Ian Urbina of the New York Times exposes the dark side of the deep sea, describing real abuses, crime and violence in international waters. In this episode of World Ocean Radio, host Peter Neill summarizes the four-part "Outlaw Ocean" series, praising Urbina's work to educate the public by exposing the labor, human rights, and environmental abuses occurring out of sight, on the high seas. | A San Diego County Water Authority project to construct a 6-acre desalination plant, the largest of its kind in the United States, comes at a time when the traditional water supply system in California is overwhelmed by changing climate, high agricultural demand, and high consumption by an increased population. In this episode of World Ocean Radio, host Peter Neill will describe the process of desalination, break down the numbers, and describe the objections to and development of this... | After water, the largest volume of natural material used to support global growth is sand. Demand has grown exponentially in the last two decades as Arab and Asian nations grapple with ways to expand land mass, economic zone, and geo-political standing. In this episode of World Ocean Radio, host Peter Neill will describe the impacts of sand extraction on the environment and will outline the true measure of its cost and the prospects for international protection and oversight. | This week marks the 350th episode of World Ocean Radio, a weekly program of five-minute audio essays on a wide range of ocean issues from science and education to advocacy and exemplary projects. Since 2014 World Ocean Radio has been translated into five languages, and in this anniversary episode host Peter Neill enlists its supporters to help spread the word and market the program to broader audiences around the globe. |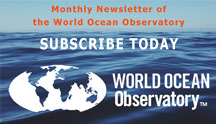 WORLD OCEAN EXPLORER 2020
With a game capable of reaching a global audience, WORLD OCEAN EXPLORER can expand interest in ocean issues and habitats, and excite students about the infinite possibilities associated with ocean exploration. LEARN MORE.