A weekly series of five-minute audio essays on a wide range of ocean issues from science and education to advocacy and exemplary projects, brought to you by long-time host Peter Neill. Available for RSS feed, podcast, and syndicated use at no cost by community radio stations worldwide.
| | | | |
| --- | --- | --- | --- |
| In this fourth and final episode dedicated to outlining the complexities contained in the United Nations World Ocean Assessment, host Peter Neill focuses on the State of Oregon in the US, where a robust ocean stewardship program is in place, focusing on many of the issues and utilizing recommendations outlined in the Report. | In this third of four episodes dedicated to outlining the complexities contained in the United Nations World Ocean Assessment, host Peter Neill explores the concept of "ecosystem services" as a way to account for absent values when attempting to reconcile the balance sheet of human interaction with Nature. And he explains that activities such as offshore fishing have too many variables to be calculated by conventional measures and must be considered for their full compliment of impacts. | In this second of four episodes dedicated to outlining the complexities contained in the United Nations World Ocean Assessment, host Peter Neill explores a partial list of the ocean issues contained in the Report, and argues that this baseline document demonstrates that we know enough about ocean issues and that we have the tools and actions at our disposal to make an immediate commitment and difference in the ocean future. | In January of 2016 the UN General Assembly accepted a 1,752 page report entitled "The First Global Integrated Marine Assessment: World Ocean Assessment 1." In this episode of World Ocean Radio, host Peter Neill begins to dive into the massive ocean document and explain its contents, first by outlining its ten basic themes and subsets of issues and challenges. |
| In October 2015 Liberal Party leader Justin Trudeau overwhelmingly won the Canadian election for Prime Minister. In advance of the election, Premier Taptuna of the Arctic territory Nunavut wrote an open letter to the candidates. In it, he asked each to outline their vision for the future of the Arctic. The indigenous people of Canada have long endured unresolved discussions about issues such as environmental sustainability, economic and educational opportunity, access to technology and basic... | What does it mean to be accountable for our actions? Individuals are accountable for personal behaviors, commitments, and relationships with those around us. What about corporations? In this episode of World Ocean Radio host Peter Neill questions why corporations are not held to the same standards, and outlines ways in which shareholders and the divestment movement have shown how engaged citizens can encourage and force changes in corporate behavior. | The water crisis in Flint, Michigan points to tragic mismanagement of the city's water supply in an effort to save funds—a decision which is destroying a community and will ultimately cost millions to fix. In this episode of World Ocean Radio, host Peter Neill will provide examples of some of the many losses the city and state will incur as a result of this negligence, and will suggest some things that can be learned from the crisis as well as the consequences of a deliberate governmental... | Fresh water is the topic of discussion once again on World Ocean Radio. In this episode host Peter Neill re-asserts the gravity of the global fresh water crisis and its cyclical relationship with the ocean. He discusses the shift away from valuing oil rich nations for water rich ones, and submits that the ocean is the inevitable place we will turn for all of the resources we need for a healthy future, from drinking water to medicine, from food to security. |
| The US Navy's SEALAB initiative is celebrating its 50th anniversary this year, with now three pioneering aquatic living experiments under their belts to help understand how humans can best survive in underwater conditions. In this episode of World Ocean Radio, host Peter Neill salutes the work of SEALAB, outlining their enormous contributions to the development of tools such as breathing devices and medical protections, as well as their contributions to the further understanding of the physical... | World fisheries are in crisis, with many species pushed to the edge of extinction. The current system is a recipe for disaster: demand is up; external suppliers operate outside of management regimes; sustainability seems an impossibility. In this episode of World Ocean Radio, host Peter Neill will discuss inadequate and controversial management regulations and a new approach called "catch shares" which aim to establish incentives to promote the long-term sustainability of fish stocks. And he... | There are many whale-related hot button topics being discussed today: hunting (particularly by the Japanese), seismic testing, inexplicable strandings, the ingestion of plastic pollution, and the growing controversy over the morality of their captivity and exploitation. In this week's episode of World Ocean Radio host Peter Neill discusses the practice of keeping cetaceans for their entertainment value and explores new and proposed bills and legislation in both Canada and the United States... | At the close of each year, World Ocean Radio host Peter Neill reads "At The Fishhouses" by Elizabeth Bishop. This poem was chosen not only for its relevance for the New Year but because it distills years of Bishop's seaside meditations and evokes the clarity of meaning contained in personal encounters with the world ocean. |
| Record numbers of migrants are taking to the seas to escape political strife, sectarian conflict and war, crossing the Aegean and Mediterranean seas aboard inadequate vessels in search of better and safer lives for themselves and their families. Many are struggling to cope with the sheer numbers: from the coastal nations receiving desperate refugees, to the border management agencies, to the UN and the IMO, to the mariners at sea obligated by maritime tradition to rescue those in crisis on the... | In October of 2015 Peter Neill, Director of World Ocean Observatory and host of World Ocean Radio, attended the bi-annual conference of the International Congress of Maritime Museums in Hong Kong to share his vision for maritime museums in the 21st century. His argument is that maritime history is not outdated, and that every theme evident at all maritime museums: fishing, immigration, trade, technology, etc. are all very relevant today and are perhaps best understood in the context of their... | The Arctic conversation concludes this week with "An Arctic Vision." In this episode, host Peter Neill focuses on the indigenous Arctic community and how a sustainable economy might be developed based on new policies, practices, employment opportunities, and benefits for the people who live there. And he outlines three key areas in which a sustainable approach might succeed in the Arctic: fishing, shipping, and energy. | The conversation continues this week about the future of the Arctic. In this episode of World Ocean Radio host Peter Neill addresses a question he posed in last week's episode regarding the role that the United States might play during the 2-year Chairmanship of the Arctic Council (2015-2017). He uses the specific objectives and initiatives of the U.S. "One Ocean" Plan to back up why he is optimistic about the future of the Arctic. |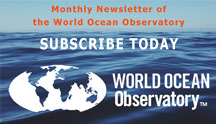 WORLD OCEAN EXPLORER 2020
With a game capable of reaching a global audience, WORLD OCEAN EXPLORER can expand interest in ocean issues and habitats, and excite students about the infinite possibilities associated with ocean exploration. LEARN MORE.