A weekly series of five-minute audio essays on a wide range of ocean issues from science and education to advocacy and exemplary projects, brought to you by long-time host Peter Neill. Available for RSS feed, podcast, and syndicated use at no cost by community radio stations worldwide.
| | | | |
| --- | --- | --- | --- |
| This week on World Ocean Radio: part one of a multi-part series on the Arctic. In this episode, host Peter Neill examines governance, oversight, resources, and the conditions and challenges facing the Arctic. He describes the work of the Arctic Council, an eight-nation consortium with jurisdiction in the region, and outlines the processes and responsibilities of stewardship by those member nations. | Natural forces unleashed an epic scale of destruction on Houston and surrounding areas of Texas. Built upon consumption, unmitigated growth, and fossil fuels, critics now point to the consequences of development based on an outdated paradigm. In this episode of World Ocean Radio, host Peter Neill asks, "What are the questions we should be asking, and what are the lessons to be learned from this catastrophe?" and he suggests a new, reorganizing principle on which to rebuild, one that redesigns... | In this episode of World Ocean Radio, host Peter Neill shares a technology first developed by a team of scientists from MIT and UC Berkeley that could radically change the world by mitigating the global water crisis. | After a recent three-week sailing voyage in the North Atlantic, host Peter Neill returns to World Ocean Radio to share observations from being in a distant ocean environment, and how important it is for us to commit to action for protection of the natural places that improve and sustain us. |
| After more than 430 episodes of World Ocean Radio, host Peter Neill takes this week to outline what the World Ocean Observatory does, and the ways in which we reach people around the globe through various programs, social networks, and our vast website of educational resources. | The Chicago Ship Canal is a major feat of civil engineering, and has been controversial and problematic since the beginning. Pollution from an ever-growing human population, the added demand for increased ship and barge traffic, and the introduction of Asian carp into the waterway in the 1970s have posed increased challenges and new threats both upstream and downstream. In this episode of World Ocean Radio host Peter Neill outlines the present situation and the expensive, multi-year plan to... | Since the creation and ratification of the United Nations Convention of the Law of the Sea (UNCLOS), many international experts have debated how best to create a binding instrument to address marine areas outside of national jurisdiction—the high seas. In this episode of World Ocean Radio we detail the complex and time-consuming process of creating, coordinating and implementing international ocean policy. And we hail the work of the many people who contribute to building an effective,... | Summertime along the coast offers us the opportunity to reflect on why the ocean matters, and its importance in our lives. In this episode of World Ocean Radio, host Peter Neill shares insights from the great American naturalist and author Rachel Carson, by reading from her seminal book "The Edge of the Sea." |
| An innovative company in Iceland has developed a product from fish skin to treat chronic wounds so that new skin can grow. Called Omega 3 Wound, developed by Kerecis Limited, and approved by the FDA, this product illustrates that we have the capacity to use 100% of the fish, thereby maximizing the value of the catch and accelerating economic opportunity around the globe. | As Finland begins to outline its Arctic Council agenda for the next two years, Russian involvement and investment in the region continues to grow at a fast pace. In this episode of World Ocean Radio, host Peter Neill explains Russia's history in the Arctic and their present and future interest, centered primarily on the extraction of oil and mineral resources. And he cautions that Russia, with their advantage to the region via fleet size and access, shows little concern for the consequences of... | The ocean is continually and exhaustively over-exploited: over-fishing by international fisheries, sand mining for construction projects and artificial islands, coral reefs and marine species for medical advances, and deep sea mining for minerals. In this episode of World Ocean Radio we discuss the controversial Solwara One project proposed by Nautilus Inc. for mining minerals offshore Papua New Guinea. We share outcomes from the Nautilus Annual Meeting and read a selection of comments from... | Age old discoveries and scientific advances have long dispelled the belief that the earth is flat. Recent technological advances have moved recorded data into third dimension visualization, yet today we continue to depict and understand the world in two dimensions. In this episode of World Ocean Radio host Peter Neill asks us to consider how we might add dimension to our ways of thinking in order to fully understand and interact with Earth's dynamic systems. |
| As a follow up to a World Ocean Radio episode from mid-May, we offer an overview of the Ocean Conference in New York last week which sought to reach outcomes toward sustainable development goal (SDG) 14: to conserve and sustainably use the oceans, seas and marine resources for sustainable development. And in this episode we encourage all listeners to become agents for change by choosing one ocean issue and investing talent and action toward a solution. | At the United Nations Ocean Conference in New York in June, each attending delegate was presented with a new book by co-authors Dr. Gregory Stone and Nishan Degnarain. "Soul of the Sea in the Age of the Algorithm, How Tech Start Ups Can Heal Our Oceans," surveys the evolution of ocean exploration and exploitation through three phases of global change. "Soul of the Sea" sets out just how grave the problems facing our oceans are, but also how solvable they can be. | Water conflict is nothing new. We have been fighting wars over the most valuable resource on the planet since thousands of years B.C. In this episode of World Ocean Radio we highlight the Pacific Institute as a provocative source of information about the world's freshwater resources, including a comprehensive chronology of water conflict complete with historical context. | On June 8th we celebrate World Ocean Day, a day to recognize our relationship with the ocean through global connection and stewardship. In this episode of World Ocean Radio host Peter Neill discusses what World Ocean Day is meant to do and will ask, "What does it take for the will of the people to coalesce around a single issue, to be informed and changed into a voice for change?" |
WORLD OCEAN EXPLORER 2021
With a game capable of reaching a global audience, WORLD OCEAN EXPLORER can expand interest in ocean issues and habitats, and excite students about the infinite possibilities associated with ocean exploration. LEARN MORE.
OUTLAW OCEAN MUSIC PROJECT:
A CROSSOVER BETWEEN MUSIC & JOURNALISM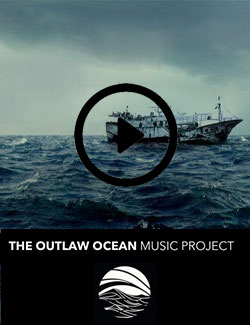 All music in this project is based on THE OUTLAW OCEAN, a New York Times best-selling book by Ian Urbina that chronicles lawlessness at sea around the world. The reporting touches on a diversity of abuses ranging from illegal and overfishing, arms trafficking at sea, human slavery, gun-running, intentional dumping, murder of stowaways, thievery of ships, and other topics. The music is an act of solidarity across geography and language, and an attempt at storytelling from written word to music. It is a captivating collection of inspired songs. Take your pick: listen to ambient tracks, classical, electronic or hiphop.