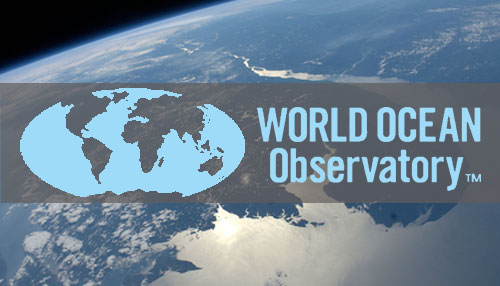 OUR MISSION
World Ocean Observatory is the leading organization advocating for the health and sustainability of the ocean through an accessible worldwide network of communication. Through education, partnership, information exchange, public connection, and relentless communications, W2O is committed to building an expansive global community of Citizens of the Ocean to promote and conserve marine resources for the future of all mankind.
PREMISES
The ocean is an inter-connected global ecosystem that integrates natural process, habitat and species with human intervention and impacts.
The ocean is a comprehensive social system that integrates human need for fresh water, food, energy, health, transport, and recreation.
The ocean is a complex political system that integrates nations and connects peoples through economic interests, cultural traditions, and cooperative governance.
The ocean today evinces a critical shift: from abundance to scarcity, accommodation to conflict.
The ocean today is viewed as a place apart, its significance fundamentally misunderstood and critically ignored at most levels of society.
The ocean demands a new information service that meets the needs of an inquisitive public and transcends the limits and biases of governments, research organizations, national interest groups, and non-governmental organizations with more narrowly defined environmental agendas.
GOALS
To build an educational initiative incorporating ocean information into exhibits, educational innovations, public programs, and informational services.
To share these resources through partnerships with existing museums, science centers, aquaria, libraries, NGOs, schools and other educational institutions, thereby reaching audiences around the world with the greatest effect and economy of scale.
To expand public awareness of the implication of the ocean for the future of human survival.
To serve as a central place of exchange for ocean information, education and public discourse. To serve as an independent forum and focus for ocean affairs.
To advocate for the ocean through an open, worldwide network of communication.
To provide a window on the future of the ocean for the general public and decision-makers around the world.
STRATEGIES
To communicate globally.
To use the efficiency of partnerships and existing structures.
To reach a differentiated audience, locally and worldwide.
To affect the inter-generational transfer of knowledge.
To be science-based and humanities-driven.
To be non-litigious, independent and apolitical.
To advocate through information and education.
To promote civil discourse, peace and security on the ocean.
To be optimally economical in service, personnel, and overhead.
To be financially self-sustaining through grants and endowment.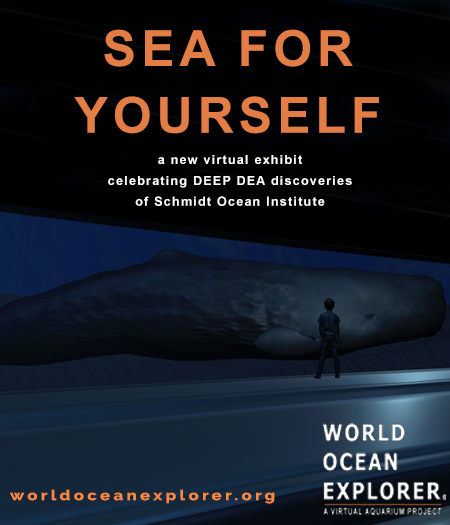 Explore deep-sea animals and environments as you've never seen before. In partnership with the Schmidt Ocean Institute (SOI) the World Ocean Observatory (W2O) has launched a groundbreaking immersive 3D virtual aquarium exhibit! Try World Ocean Explorer FREE today at worldoceanexplorer.org/deep-sea-aquarium.html
SUPPORT W2O WHEN YOU SHOP ONLINE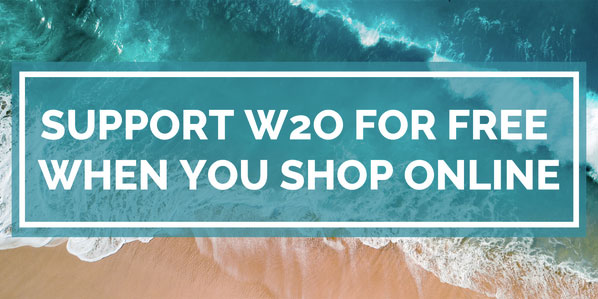 GreenH2O Rewards is a free browser extension that gets 30,000+ stores to contribute part of your purchase price to water-related charities. When you join through the W2O referral link you'll automatically be supporting our programs--at no extra cost--when you shop online. GreenH2O Rewards extension will also save you money by automatically applying the best discount codes at checkout. Saving money and helping the ocean. What could be better?
* GreenH2O Rewards will never collect your personal information nor sell your data
OUTLAW OCEAN MUSIC PROJECT:
WHERE MUSIC MEETS JOURNALISM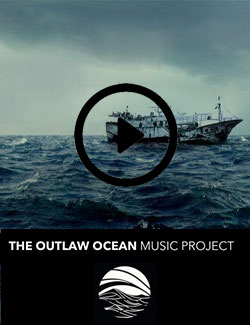 All music in this project is based on THE OUTLAW OCEAN, a New York Times best-selling book by Ian Urbina that chronicles lawlessness at sea around the world. The reporting touches on a diversity of abuses ranging from illegal and overfishing, arms trafficking at sea, human slavery, gun-running, intentional dumping, murder of stowaways, thievery of ships, and other topics. The music is an act of solidarity across geography and language, and an attempt at storytelling from written word to music. It is a captivating collection of inspired songs. Take your pick: listen to ambient tracks, classical, electronic or hiphop.